HELP YOUR PATIENTS SAVE WITH THE NUCYNTA ER/NUCYNTA SAVINGS CARD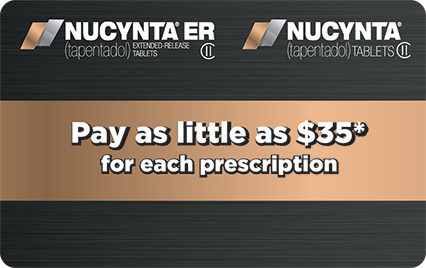 Eligible patients pay as little as
$35*for each prescription of
HELP YOUR PATIENTS LEARN WITH THIS EDUCATIONAL BROCHURE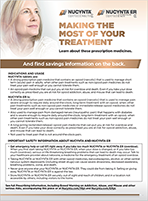 A guide to help patients better understand pain and their prescription pain medicine.

EXTENSIVE COVERAGE NATIONWIDE
Sales Representatives can provide more information on coverage in your area.
HOW PATIENTS CAN SAVE:
Patients can present a NUCYNTA ER/NUCYNTA Savings Card to a pharmacist along with their NUCYNTA ER or NUCYNTA prescription to receive instant savings
Most eligible commercially insured patients will pay as little as $35 [up to the maximum benefit specified on the back of the card] for NUCYNTA ER or NUCYNTA tablets. Any remaining out-of-pocket expense will be the patient's responsibility
Patients with questions about the NUCYNTA ER or NUCYNTA savings offer should call (844) 807‑0348
For Indications and Usage and Important Safety Information for NUCYNTA, click here.
Please see full Prescribing Information, including Boxed Warning on Addiction, Abuse, and Misuse and other serious risks.