NUCYNTA ER (tapentadol): WELL‑DEFINED TOLERABILITY PROFILE
INCIDENCE OF TEAEs REPORTED BY ≥2% OF SUBJECTS WITH cLBP1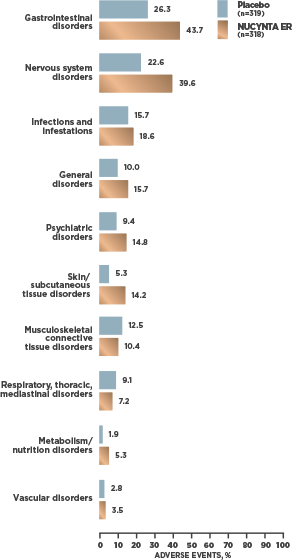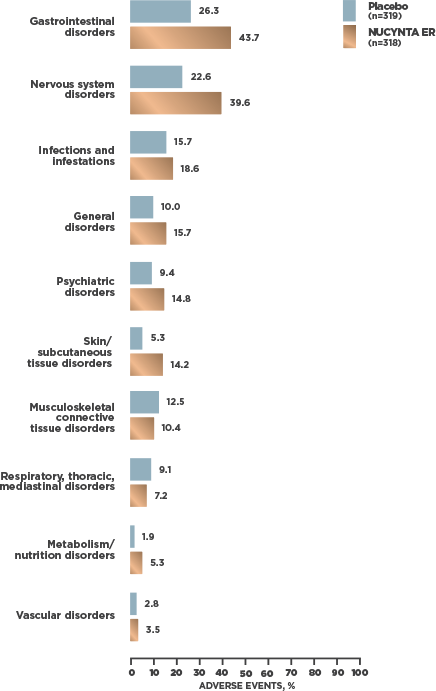 At cLBP study end, 95.2% [59/62] of patients receiving NUCYNTA ER experienced no opioid withdrawal after abrupt discontinuation of treatment without tapering2*
In vitro studies did not reveal any potential of NUCYNTA ER to either inhibit or induce cytochrome P450 enzymes3

A minor amount of NUCYNTA ER is metabolized via the oxidative pathway
Thus, clinically relevant interactions mediated by the cytochrome P450 system are unlikely to occur
CR: Controlled release; ER: extended release; TEAEs: treatment‑emergent adverse events.
The most common reasons for discontinuation due to adverse reactions in eight phase 2/3 pooled studies reported by

≥

1% in any NUCYNTA ER dose group for NUCYNTA ER- and placebo‑treated patients were nausea (4% vs 1%), dizziness (3% vs <1%), vomiting (3% vs <1%), somnolence (2% vs <1%), constipation (1% vs <1%), headache (1% vs <1%), and fatigue (1% vs <1%), respectively3
*Oxycodone CR was included in the study as an active control. No opioid withdrawal after abrupt discontinuation was experienced by 91.1% (82/90) of patients in the oxycodone CR group2
References:
Data on file, Collegium Pharmaceutical, Inc.
Buynak R, Shapiro DY, Okamoto A, et al. Efficacy and safety of tapentadol extended release for the management of chronic low back pain: results of a prospective, randomized, double‑blind, placebo‑ and active‑controlled phase III study. Expert Opin Pharmacother. 2010;11(11):1787‑1804.
NUCYNTA ER [package insert]. Stoughton, MA: Collegium Pharmaceutical, Inc.; 2021.